PROTECT YOUR DIGITAL ASSETS
Maintain control over your intellectual property with our comprehensive content

protection platform.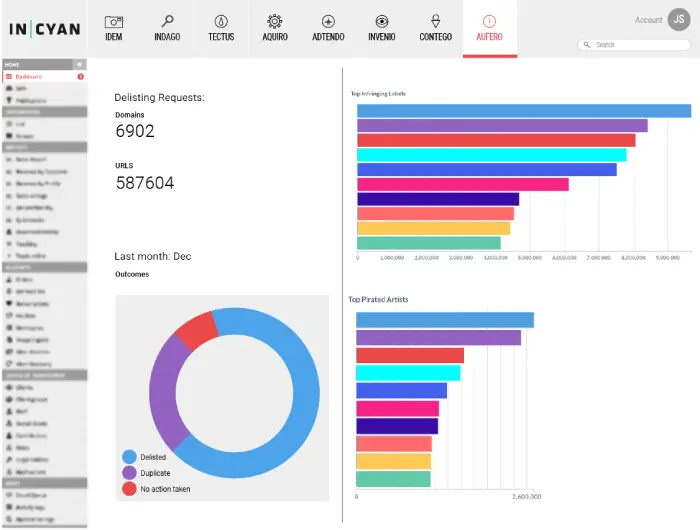 Our digital asset protection platform is a powerful solution for safeguarding your digital assets. 
A comprehensive defence against piracy and unauthorised usage of your assets, our platform leverages modules for watermarking, web crawling, scraping and reporting, image/video/audio matching, brand protection, and more, to safeguard your digital content.
Built on top of our big data store, our platform leverages the latest in artificial intelligence to offer advanced search, monitoring, and alerting capabilities.
Stay in control of your digital assets with InCyan's modular Digital Asset Protection Platform.
Next Generation Watermarking of Images & Videos
Tectus watermarking is the future of digital content protection. Invisible and non-invasive, each encoded watermark is undetectable and cannot be readily removed.

Places a hidden watermark within the content using deep learning (neural network) algorithm technology.

Fixes hidden watermarks so they cannot be readily removed, meaning encoding & decoding are totally controlled by Tectus.

Facilitates identifying the publication journey taken by any piece of content, enabling leaked materials to be successfully traced.
FACIAL RECOGNITION
CONTEGO
Contact us to arrange a chat by using the
button below.
SSO via your Enterprise IdP
Intelligent search & analysis
AI: Machine Learning & Deep Learning based matching
Monitoring & alerting
DMCA Notice system
Advanced Reporting
Platform Pricing
We provide all of our solutions for a simple annual enterprise licence fee, that is easy to understand, and truly scalable.
Do more with less
Our SaaS platform gives you all the benefits of a custom solution, at a fraction of the cost.
Scale as you grow
Get up and running quickly. Add new modules and increase your content volume as your needs change.
Stay ahead of the competition
With regular updates and new features, our platforms are constantly evolving to meet your needs.
Stay safe
Keep your digital assets safe with our top-of-the-line security measures.
Customise
Create a solution that works for you. Our modular licensing means you can choose only the modules you need.
Contact us below to arrange a time to talk, where we will be happy to provide you with a specific cost for your
exact requirements.